Photo by: Jean-Marc Pinaud
Our first Snow Leopard Tour after the pandemic took place on the 13-24th of October. We spent two days in Hustai National Park to see Przewalski's Horses and other wildlife there. On the 16th of October, we flew to Khovd with Aero Mongolia and landed at around 6:00 pm. We were picked up by our two Toyota land cruisers and headed to our Snow Leopard camp directly. After over an hour, we reached our camp and had a delicious dinner made by our professional cook Bogi.
We explored the valley for the next few days and we have seen a horse carcass recently taken by a Snow Leopard at the bottom of the valley. There was a large herd of horses grazing on the higher grassy slope since our arrival. On the second day, we noticed that those horses were scared of something about an hour before dusk. We grabbed our binoculars as our spotting scope went with one of the cars and saw something like a wolf or snow leopard walking close to the horses. But, we were not sure that was exactly a snow leopard as it was a bit too far for the binoculars. On the next morning, we walked up to check if a Snow Leopard made a kill. After scanning around the horses, we didn't find anything and returned to our camp for a bit late lunch. In the afternoon, I and the local guide went to another valley in one car. When we came back to the camp just before dusk, we were told that our driver Gana has seen something chasing the horses again at the same spot. On the next morning, our local guide went up on a horseback to check the areas around the horses again and he gave us a call that he found a fresh kill made by a Snow Leopard at an altitude of 2,600 m. After an hour of walking, we reached the hidden spot to watch the leopard safely. The magnificent Snow Leopard was sleeping right next to the kill and we watched it for many hours.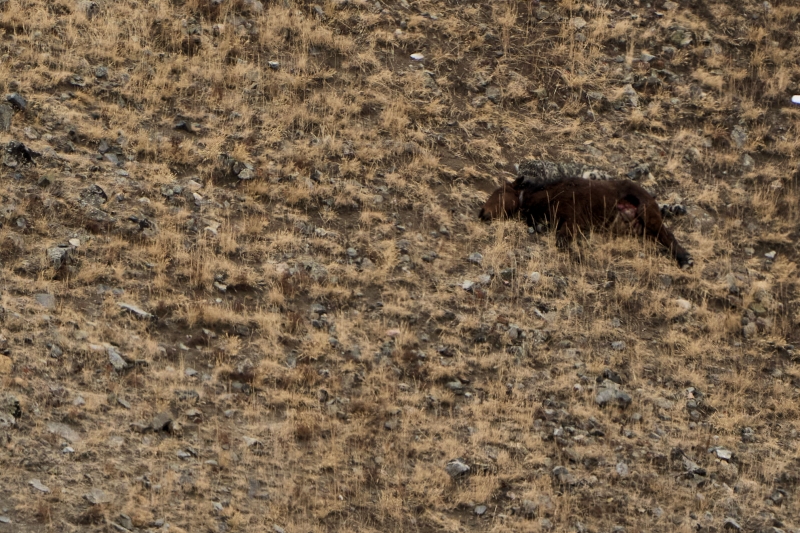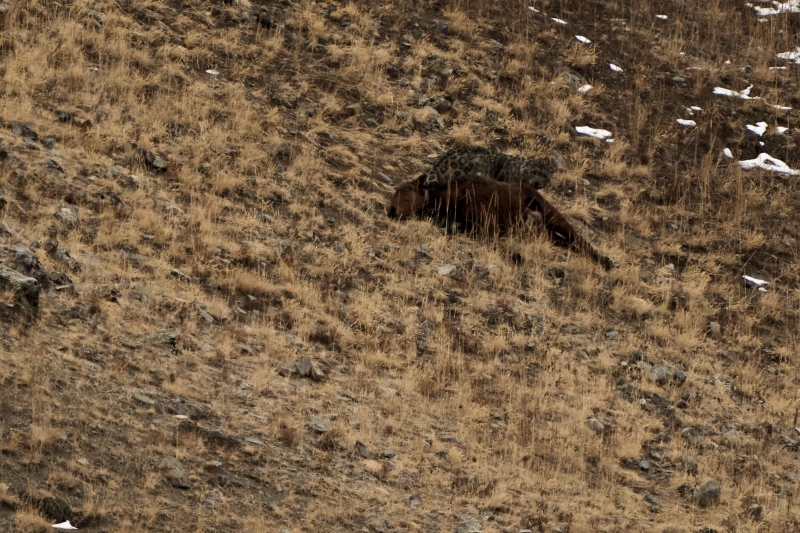 Photos by: Jean-Marc Pinaud